Legend has it that Google uses over 200 signals to inform its website rankings. Luckily for you, Schenley searched high and low for the best strategies to employ to make your website rank #1 on Google. Read on to learn more.
Technical elements: title tags, H1 tags, and meta descriptions
Keywords: a fundamental building block for SEO
Quality of content: are you producing high-quality content?
Types of links: internal, outbound, backlink
Trust, authority, and expertise
Technical elements: title tags, H1 tags, and meta descriptions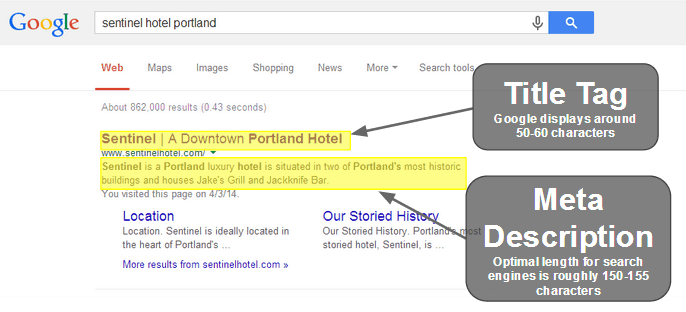 Your title tags, H1 tags, and meta descriptions —all of which you have complete control over— are heavily analyzed by Google when determining where to rank your page, as well as how it appears in the search engine results page (SERP). Here is how you can optimize them.
Title tags
Try to include keywords you want to rank for near the beginning of the title tag. This increases your chances of ranking for that keyword. However, your titles still need to make logical sense for humans. You can't just stuff them with random keywords. Avoid duplicating title tags across your website, as that can negatively affect your visibility.
H1 Tags and Meta Descriptions
Include keywords in your H1 tags too. Try to vary your H1 phrasing from your title tag, however. Most sites only let you use one H1 tag per page, but you can still use H2 and H3 tags to break up content and increase readability. Meta descriptions do not directly affect ranking, but they can improve click-through rate, so don't forget to produce high-quality ones for your site.
Keywords: a fundamental building block for SEO
Proper keyword use is an art, not a science. While they are key (pun not intended) in improving your Google ranking, you can't just stuff them into your website in a nonsensical fashion. In fact, excessive repetition of keywords will only penalize you. Relevancy and placement trump frequency when it comes to keyword use.
Aim to have your keyword or key phrase appear within the first sentence of the web page. Remember that Google prioritizes meta information and headers over body copy, sidebars, and footers.
Try to word your key phrases in a way your target customer would. For instance, Brad from the University of Michigan probably isn't going to look up laptops using the phrase "high-performance laptop with 180-degree hinges." It would probably include less technical jargon and would be phrased in a much more casual manner.
Quality of content: are you producing high-quality content?
Quality
Don't forget the small stuff—grammar, spelling, formatting—when composing your content. On top of that, your web pages need to have high readability. Write short sentences and short paragraphs that are broken up with line breaks and subheadings. White space is preferable for users in terms of mobile experience. Use the Flesh reading ease test to check your web page's readability score. Aim to get above 60%.
Freshness
Web pages are given a "freshness" score based on how recently they were published. To increase this score, include links to external sites on your web pages. Link from other "fresh" sites can also help your score.
Types of links: internal, outbound, backlink
Familiarize yourself with these different types of links and how they each affect your site ranking.
Internal
According to Jason McGovern of Starcom, internal linking, linking to other pages of your website, is one of the few methods we can use to tell Google that a particular web page is important. When choosing what pages to link to internally, search for ones that are high in SEO value and that contain the most important content.
Outbound
Outbound links direct users to a site outside your domain. They increase your site's ranking power. However, linking to a super spammy website will actually hurt your ranking. So, make sure you link to a legitimate and authoritative website. It will not only increase your ranking but also customers' trust in your site as you have made it obvious that you've done your research.
Backlink
Backlinks are links from a third party back to your site. To increase ranking, you are going to want links from sites of high authority that are also relevant to your content. Sites containing long-form, evergreen content are also of high value.
Trust, authority, and expertise
Content quality, amount, and website information are factored into your Google Page Quality Rating. To increase this score, make sure your site's overall architecture is logical and easy to navigate. Starting a blog can help increase relevance and trustworthiness while also helping with content freshness.
Hopefully, these tips made it a little easier to navigate through Google's complicated ranking system. We of all people know how challenging it can be to navigate through the system.